My First Summer in the Sierra: 100th Anniversary Illustrated Edition

Five Yosemite day hikes to experience John Muir's wilderness

Although most people think of Yosemite Valley and its waterfalls and rock formations when they think of Yosemite National Park, the valley is only a small potion of the park. 95 percent of the park is designated wilderness. While it is possible to spend days and even weeks deep in Yosemite's wilderness, that is not within everyone's reach. It is possible, however, to get a taste of wilderness in less than a day. Here is a list of five hikes that are relatively easy for most people. These hike descriptions are meant to serve as a starting point. You should seek out additional trail and hiking information from the National Park Service and/or published trail guides before attempting. It is also important, even on day hikes, to be prepared, i.e. wear proper clothing & shoes, take plenty of water, check weather conditions, prepare for mosquitoes, etc. By investing a few hours in one or more of these hikes, you will be rewarded with a pleasant wilderness experience. And be sure to take your cameras along. While many photographs in My First Summer in the Sierra: 100th Anniversary Illustrated Edition were taken many miles into Yosemite's backcountry, a number were also taken along the trails described here.
1. Pothole Dome from Tuolumne Meadows (easy)
1 mile round-trip, 1 to 2 hours, 200-foot elevation gain
Begin at the small parking lot at the western edge of Tuolumne Meadows. Although technically not wilderness, this short, easy hike offers a big payback with beautiful views looking deep into Yosemite's backcountry. There is no official trail (although there is a designated trail around the edge of the meadow to reach the base of the dome) but it's easy to find a safe route to the top of the dome. Once at the top, you'll enjoy a spectacular 360-degree view that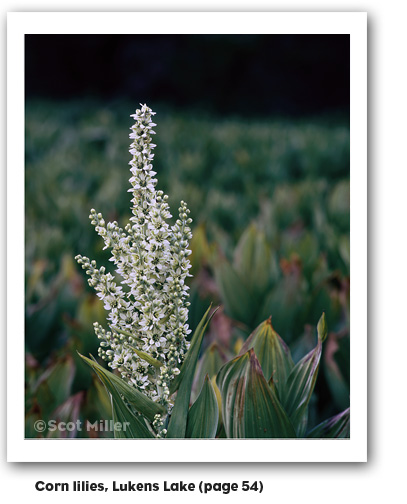 includes Tuolumne Meadows, the northern boundary of the park, Mount Gibbs, Mount Dana, and Lembert Dome to the east, and the Cathedral Range to the south. The photographs "Lembert Dome, storm light" on page ii and "Sunset ceremony" on page 88 were taken from the top of Pothole Dome.
2. Lukens Lake from Tioga Road (easy)
1.6 miles round-trip. 1 to 2 hours;
200-foot elevation gain.
This hike begins at the Lukens Lake trailhead on the Tioga Road, 2 miles east of White Wolf Road. The trail winds through a forest, then over a saddle and down to a small mountain lake surrounded by a meadow. Wildflowers abound, often through July. Watch for wildlife such as deer and marmots along the way. The photographs "Corn lilies, Lukens Lake" on page 54 and "Summer reflections, Lukens Lake" on page 115 were taken here in early July.
3. May Lake (easy)
2.4 miles round-trip. 2 hours, 485-foot elevation gain
Begin at the May Lake parking area, 1.75 miles north of the Tioga Road. A short trail leads through a conifer forest and across granite slabs to reach May Lake which sits at the base of Mount Hoffman, rising more than 1,500 feet out of May Lake to a height of 10,850 feet. May Lake is a popular trout fishing lake. Enjoy views of Half Dome, Cathedral Peak, Mount Hoffman and surrounding mountains on the way. The photographs "Wilderness dawn" on page 71 and "Sunrise, summit of Mount Hoffman" on page 98 were taken on or near this trail.
4. Cathedral Lakes from Tuolumne Meadows (moderate)
7 miles round-trip, 4 to 6 hours, 1,000-foot elevation gain
Begin at the Cathedral Lakes trailhead, 1/2 mile west of the Tuolumne Meadows Visitor Center.
The trail climbs steadily to the lakes. Near the top of the climb, it passes a spur trail to Lower Cathedral Lake (0.5 mile to lake) that sits at 9,250 feet in a bowl beneath Cathedral Peak (10,911 feet), a favorite of John Muir's. In 1869, Muir was the first person to ascend the peak and describes the view in My First Summer in the Sierra as "very fine and telling in every direction." The trail continues on a short way to Upper Cathedral Lake. The return hike follows the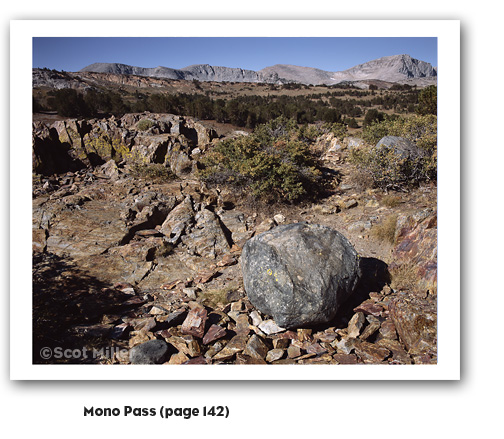 same route. This is one of the busiest trails in the Tuolumne Meadows area. Parking at the trailhead is limited so you might consider taking the free shuttle bus. The photographs "Echo Peaks, moon rising" on page xiv, "Intersecting ridges" on page 56, and "Dawn, Upper Cathedral Lake" on page 101 were taken at Cathedral Lakes.
5. Mono Pass from Tioga Road (moderate)
8 miles round-trip, 4 to 6 hours, 1,000-foot elevation gain
Begin at the Mono Pass trailhead, on the Tioga Road, six miles east of Tuolumne Meadows (free shuttle service is available twice per day). Located on Yosemite's eastern boundary, this historic, trans-Sierra trail follows a path established by Native Americans, and later used by miners, serving up some incredible, panoramic views. It climbs gently at first from the Mono Pass parking area, through wet meadows and rushing creeks. At the Spillway Lake junction, the trail climbs steadily and more steeply to Mono Pass (elevation 10,600 feet). By hiking a bit farther, spectacular views of Mono Lake and Bloody Canyon can be had. The landscape and geology at Mono Pass is very interesting and noticeably different from most of Yosemite, as evidenced in the photograph "Mono Pass" on page 142.